Poseable Animal Mannequins for drawing
July 14, 2020
Many artists use photo resources for drawing animals. But there may be situations when you just can't find this one pose that you need… Poseable Animal Mannequins for drawing might help you.
Last time I've gathered a list of best poseable mannequins for drawing. And I will be honest here, while doing research about mannequins I was mostly looking for human figures. But there were actually a few animal figures, that should be mentioned (but weren't, because I thought that most people are looking for humanoid manikins) – and that's why I decided to create a separate article dedicated specifically to animal figures for drawing.
Also, while I was doing this research about poseable animal figures for artists,  I realized that there are not so many figures as I thought there would be. Some of them were rather toys than anatomical references, and simply were not something that I could recommend. It was quite a struggle to find them, and I'm still looking for some nice poseable manikins that could be added to this article ( I will update it when I find anything). So if you know any, please let me know!
This article is divided into 3 parts:
Photo Resources for drawing animals – fur, feathers, skin. There are things that manikins can't help you with. Having photo resources is always a great help.
List of best animal mannequins for drawing – the physical poseable figures, useful for drawing animals. Especially when you have problems with shading – you can set up a stage with lamp, and create the lighting you need for your illustration (author's comment: I often have problems with finding photo resources with the lightning I need, so I mention this as the main advantage)
Online poseable animal mannequins for drawing – because animals' anatomy is so various. For example, when you are looking for a dog mannequin, it will represent only some races. Pitbull, Sighthound, and Chihuahua are very different, and it's rather impossible to find a physical poseable figure dedicated to this certain race. Thankfully, there are 3d models and online apps that can help you with this.
I hope that this article will save you time searching for the right manikin.
Photo Resources for drawing animals
Problem with drawing fur and feathers
*still working on this part* 
Before we get to the list, I want to point out quite serious problems that many artists encounter while drawing animals, and which not all manikins can solve. And that is drawing the fur, feathers, and skin of animals.
I saw a few animal figures with fur, but the cost of them is pretty high. I'm aware that not everyone can afford them, especially if you are an art student.
So, for now, I'm leaving this section for rewriting in the future. My plan is to gather animal fur, feather and skin photo resources as an additional help for you to look at while using manikins – so you could better illustrate the animal.
I will create Pinterest boards and publish here links to them in the future.
List of best animal mannequins for drawing
Some of the companies provide not only human but animal figures as well. And actually, they have in their offer surprisingly many animal models – which you can also customize. So I didn't attribute every mannequin to the respective 'animal subpart' of this article but created a few subsections dedicated to entire companies. I hope this will help to better navigate through the article.
Armature Nine
Official website | Facebook page | Youtube | Instagram | Tumblr
I've already mentioned Armature Nine in my article about poseable mannequins for drawing.
From my point of view, Armature Nine's biggest advantage is the possibility of purchasing replacement parts, additional accessories/props, and even more – creating your own custom manikin (you can find more info about this here). This is very important for me as I tend to break things quite often (…my poor wacom pen), so when I purchase anything, I always look for such options.
Armature Nine has many manikin models in its offer, from human figures (adult, baby, kid, tween, teenager), to fictional (Digitrade) and finally – animal figures.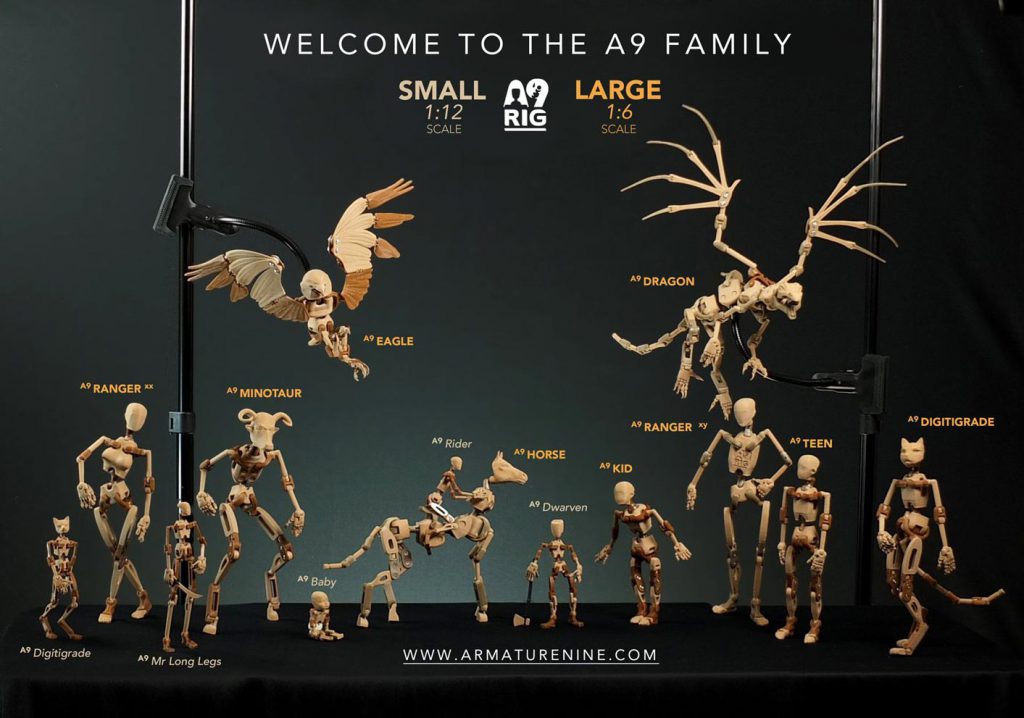 Let's take a look at some animal models available at Armature Nine.
1. Dog mannequin

This manikin can be found under the FELIDS & CANIDS section. The model shown in photos is made of Wood-composite with ABS plastic connectors. Also, the purchase includes four embedded neodymium magnets (one under each paw) and a Brushed Steel Stand.
I've been searching the internet for poseable dog models for a quite long time, and those models I found can't even compete with Armature Nine's when it comes to posing.

When you purchase this figure, you can change the material option to "no wire" – this option won't have the wire(obviously) but an element that will make it easier for you to swap out pieces.
+ you can change the head in option, and this way get yourself a Cat mannequin for drawing:
2. Horse mannequin
This model can be found in the QUADRUPED MAKER section. Armature Nine gives you a freedom of choosing heads and accessories in their manikins, and here we will be able to customize our order as well!
Are you looking for a model of Unicorn? Pegasus? Alicorn? Here you have it. Oh, you want to have a manikin of a tall cat with bat wings? No problem!

3. Poseable Dragon / Griffin with wings mannequin
The Dragon-builder section allows us to choose wings, head and hands (claws or paws) we need. This figure is built from 1:6 scale pieces, and it means that you can get other 1:6 parts (for ex. horns) to customize it even further. You can also contact directly the Armature Nine to ask them which parts you have to buy in order to, for example – create a longer neck, or if they are able to create custom parts for your manikin.
Horse Mannequin for drawing
In this section, you will find a list of poseable horse mannequins for artists.
I also have to mention here the fact that there are many horse races, which have various proportions. There was this one time when I was learning the photobashing technique and used a photo of a horse for my illustration. After posting it on FB art groups, some people gave me critiques and pointed out a few "anatomy mistakes" in the horse's photo. And that was the day when I stopped taking seriously any art critiques from strangers
Any conclusions? I will always recommend gathering photography resources as additional help before drawing an illustration.
US Art Supply Wooden 8″ Horse Artist Drawing Manikin Articulated Mannequin
This wooden horse figure was already mentioned in my previous articles. It is a great model for drawing or painting for beginners. You can rearrange head, neck, & legs. It may not be so flexible as Armature Nine's model, but the price is muuuch lower. It has an authentic horse hair tail.
I've tried to find some negative opinions, and the only comment I've found was about proportions – "a little unproportional for someone who lives around horses". I have to make my own comment here, since I too had a chance to live around horses, and personally I have not spotted anything weird with this model's head proportions. After a closer inspection, I would say that the neck seems to be a little bit too long, but when I looked up horse photos in Google, I was able to find some horses with this weird proportions.
Anyway, this model comes with a stand, and is a nice display piece – will be a good choice as a gift for any horse lover.
Max Factory Horse (Chestnut) Figma Action Figure
Figma – if you are into action figures, you probably heard about it. Figma is a product line created by a Japanese company Max Factory, known for its toys and figures. There are also poseable human figures available (as you see in the photo). Apart from poseable human figures and various models imitating anime characters, I was able to find a few poseable horse figure.
This horse figure comes in 2 colors – chestnut and white. Its height is about 160 mm.
I've dashed through opinions on these two Figma products, overall they were positive, but there were a few comments saying that the figure is fragile. Most problems were with loose joints.
I don't want to exclude this manikin from the list only because of these issues. There's an easy solution for loose joints, and you can fix this issue with the joint tightening glue that costs 3$.
It's provided by Armature Nine, they created a video explaining how to apply it, you can watch it here.
Also, you can watch Meadeslemicah's video on youtube, where he reviews both chestnut and white horses: Figma Horse 246 a&b Chestnut and White Review
Takeyashiki Jizai Okimono: Horse KT-008 Action Figure
This, is a horse model that really impressed me with its details. I haven't heard much about the company that manufactures it, but after digging up on the internet I've found out that it's known in USA under the "Revoltech" name, and it's a product series created by Japanese company Kaiyodo.
Revoltech is a reference to the unique "Revolver Joint" articulation which all of the figures in this particular series utilize. This gives the figures a wide range of motion and stability, allowing for many dynamic and varied poses.
This model comes also in a different color – "iron" (silver with some details in gold color). Also, I noticed that this model, or rather its customized version can be purchased as a set with other figures, like for example – the Gothic Equestrian Armor Action Figure (you can see it on the photo below).
The Horse model is made of plastic resin, comes with a display stand, and has 21 points of articulation ( even the eyes can be positioned ). Its size is 5 inches tall on all fours and 7 inches long.
Opinions on this product:
The opinions are very divided. There were many comments about this manikin being fragile.
Extreme care should be taken when moving different joints. I found also some negative comments about the stand (but few other users said that the stand is ok). The price is really high ( I was able to find on the internet much lower prices).
You can watch a review of this figure on youtube, created by Figuradicto X (in spanish language, but you can see posing of the model and how it is built) – Project KT 008 Kaiyodo Takeya Style Action Figure Analisis
Cat Mannequins for drawing
Poseable cat figures by ElleoDolls
I've found many awesome poseable animal dolls, which are created by ElleoDolls – artists located in Russia, and this is one of them.
They provide a variety of realistic BJD(ball-jointed dolls) pets. Most of their figures are overpainted.
ElleoDolls has many poseable animal manikins in their offer, so you should definitely check out their store.
Here's ElleoDolls poseable cat figure of Khao Manee race. The model is made from polyamide, and unfortunately, the makeup/overpaint and eyes are not included in this product.
You can choose the size of your model, and you can pick from 4cm to 10cm (the bigger you choose the more expensive it gets)
The cat is very mobile, holds poses well.
I didn't found any negative opinions of this model. The price seems really high, comparing to other figures, but I haven't found any model with such realistic proportions and silhouette as this one, provided by ElleoDolls.
Poseable cat figure by RostovWorkshop
I've found a very similar model as the one provided by ElleoDolls. This cat figure is made by RostovWorkshop (also located in Russia).
The RostovWorkshop cat figure doesn't seem to be as much polished as the first one – but its price is a huge advantage.
Extreme Sphinx by Eve studio Dolls
Another poseable figure that made a huge impression on me with its details. The 3d visualization looks stunning, and its printed version doesn't lack much, you can still see all skin details.
EveTheCat is a store that provides ball-jointed dolls. They have in their offer humanoid, animals, and accessories.
When it comes to animal manikins, you can find in their offer different kinds of animals (cats, dogs, bunny, spider, mantis, and more) + different races of cats and dogs.
On EveTheCat's website You order an already existing model, or a customized manikin. To get your customized product, all you need to do is to fill one of  the ordering forms. There you have to provide your personal information, and all details regarding the product – the size, which head you want, pupil shape, body and eye color, even if you want a solid color or gradient. At the end of the form, you will see the full price.
When you order a customized model, it will take 3 months to make a fully assembled doll, but honestly, I think it's worth the time.
(photo of the Extreme Sphinx with a different head)
Bunny poseable figures
Poseable Bunny by ElleoDolls
I have a weak spot for bunnies in my heart and just had to look for some poseable bunnies. This one, also made by ElleoDolls has poseable ears! There's also available an overpainted model.
It's made from polyamide and is available in few sizes (3-6cm)
The price is expensive.
Poseable Bunny by RostovWorkshop

And here's the RostovWorkshop bunny version. Muuuch cheaper than ElleoDolls. It may be not so perfect, the ears are not poseable, buy hey, I was an art student once and I know what it feels when you decide to spend almost all of your money on art supplies instead of food (You need to eat something too)… a nice, cheaper counterpart for art hobbyists.
Online Poseable Animal Mannequins
I found a few sites wth 3d animal models that can be posed and used as a reference in drawing. There were not so many as human figures, but if you are more interested in 3d models, then below you can find a few suggestions.
DAZ studio

DAZ Studio is a free 3d software – 3d scene creation and rendering application. Daz Studio also supports the import and export of various file formats for 3D objects.
It's free, as well as some of the models available on the developer's website, but there are 3d models available for purchase. And most of the animal models are paid.
There's not only a lot of different animals, but you can also get different textures and pose sets. You can check out their products here daz3d.com/animals
Ps. You need to download the DAZ studio first. It's free, but they want you to register.  More pieces of information you can find on their website: DAZ 3d.com
3d Mannequins by "Clayton Kashuba"
On Google Apps I found 3d Mannequins of animals, developed by Clayton Kashuba. He created a set of apps, each of them features a different animal. His apps allow us to pose the animal and choose the lighting – also, a nice help for drawing is the "show grid" option.
You can choose such animals as: horse, lion, elephant, gorilla, tortoise, shark, and even a dragon, T-rex, raptor.
There's also a cat model, but I would say its anatomy is stylized, and if you are looking for realistic proportions, then this one is not a good choice.
Anyway, really nice apps. They are free to download but have in-app purchases.
I'm still looking for animal manikins. If you know any that isn't listed here but is worth mentioning, please let me know!