MARKER brushes for Procreate [Free and Premium]
June 5, 2022
Need Marker brushes for Procreate? In this article, you will find lots of various brushes imitating markers!
If you are a Procreate user, you may be struggling with finding the right brush for your needs. Well, look no further because now you can find all the various marker brush packs in one place. These brushes are designed to produce the features and textures of markers, and each creator did their best to provide you with the first-rate sets.
Of course, there are lots of different types of markers, so I tried to make this list as diverse as possible.
Brushes included in this list are dedicated to PROCREATE users, and won't work in other graphic software – some of them have alternative versions, so I mention that in the brushes description. *In this list only the "Ultimate Brush Toolbox has files that will work in other software"
I hope that this list will help you to find the brush pack that will meet you needs. Please let me know if there's any pack that should be included in this list!
Quick list – MARKER brushes for PROCREATE:
List of Procreate MARKER Brushes
I love writing and drawing with brushes that imitate traditional art media, but we've always been frustrated about how it's hard to find the right brush for the job.
Fortunately, I kinda enjoy searching the internet for them, because I find so many interesting brush packs and artists to follow. I started making lists to gather them in one place and make it easier for others to find exactly what they need.
You know, there's a big advantage of being a digital artist – we have a chance to get brushes that imitate any art tool we want, without having to spend an insane amount of money on these traditional tools. I think that this, in case of Markers, is a great opportunity, because… c'mon, have you seen the price for 1 Copic marker? And now, imagine having to get multiple colors of this marker to be able to color your drawing? I totally understand why Copics are so expensive, they are great, but the marker will wear out eventually, and we will have to buy all of these markers again.
I think that digital media are a great alternative, with the right brushes you can really imitate their texture!
*The brush packs mentioned in this article are listed randomly. I link directly to the brushes' pages. I also try to mention in the description artists' websites and Instagrams where you can see their other creating – please visit them 🙂
1. Procreate Alcohol Markers & Papers by RadekBroz
File Types Included: .BRUSHSET
Software compatibility:  Procreate
"Procreate Alcohol Markers & Papers" caught my attention immediately. When I started to experiment with markers, it was because of Manga creators who used Copic markers (mainly, but there were also alternatives) to color their illustrations. I was inspired by them and wanted to create similar artworks. However, for a kid who doesn't have much savings in their piggy bank, repeatedly purchasing multiple colors of good-quality markers just wasn't an option.
Right now, as an adult, I mainly use a tablet instead of paints/other art tools, so seeing this brush pack brought old memories 🙂 As a test, I drew a fanart of Card Captor Sakura to see if I could really draw with those brushes an illustration that resembles the art style of CLAMP creators (they use Copic markers to color their artworks):
So… did I manage it? Personally, I'm pleased with the brushes' capacities, but plan to try also other marker brushes in the future. These were really tricky for me at the beginning, because the brushes behave like real markers; you can't paint lighter colors over the dark tones, so you have to e careful while coloring.
If you are in a similar position as me (you already own a tablet), and would like to try to create illustrations as the old mangakas did without having to spend a huge amount of money on marker sets, you can give this pack a try!
This pack contains 16 brushes and three professional-grade, high-quality canvases with paper textures. It was created by Radek Broz, whose brushes I already mentioned in other lists. You can check out his brush packs here: RadekBroz
2. Ultimate Brush Toolbox – Markers
Zipped File Size: 414.7 MB
File Types Included: .ABR, .EPS, .AI, .PDF, .AFDESIGN, .BRUSHSET
Software compatibility:  Adobe Photoshop CS6 (and higher), Adobe Illustrator Version CC 2018 (and higher), Affinity, Procreate
If you work on several graphic software – where, for example, you create sketches and designs on Procreate, but then move to Adobe Photoshop to continue your work there, it's a perfect choice. Nathan Brown designed alternative versions of these brushes for every industry-standard app: Procreate, Photoshop, Illustrator, Affinity Photo and Affinity Designer
In short, the pack has 18 + 12 texture brushes marker brushes per software, which gives 90 in total.
You will find here various marker brushes, that differ in texture and transparency + shape. I really like the alcohol marker here, it looks very convincing even without using the texture brushes and surface textures. These markers blend together like real alcohol markers.
It's worth mentioning that this particular pack is just a part of a bigger one,  the "ULTIMATE BRUSH TOOLBOX" <- it has over 300 brushes imitating real, traditional art media with alternative versions for other graphic software (that makes it 1500 brushes total in this pack!)
Anyway, if you are interested in other brush pack, or fonts designed by Nathan, please visit his website: nathanbrownart.com
3. Awesome Alcohol Markers by Bardot Brush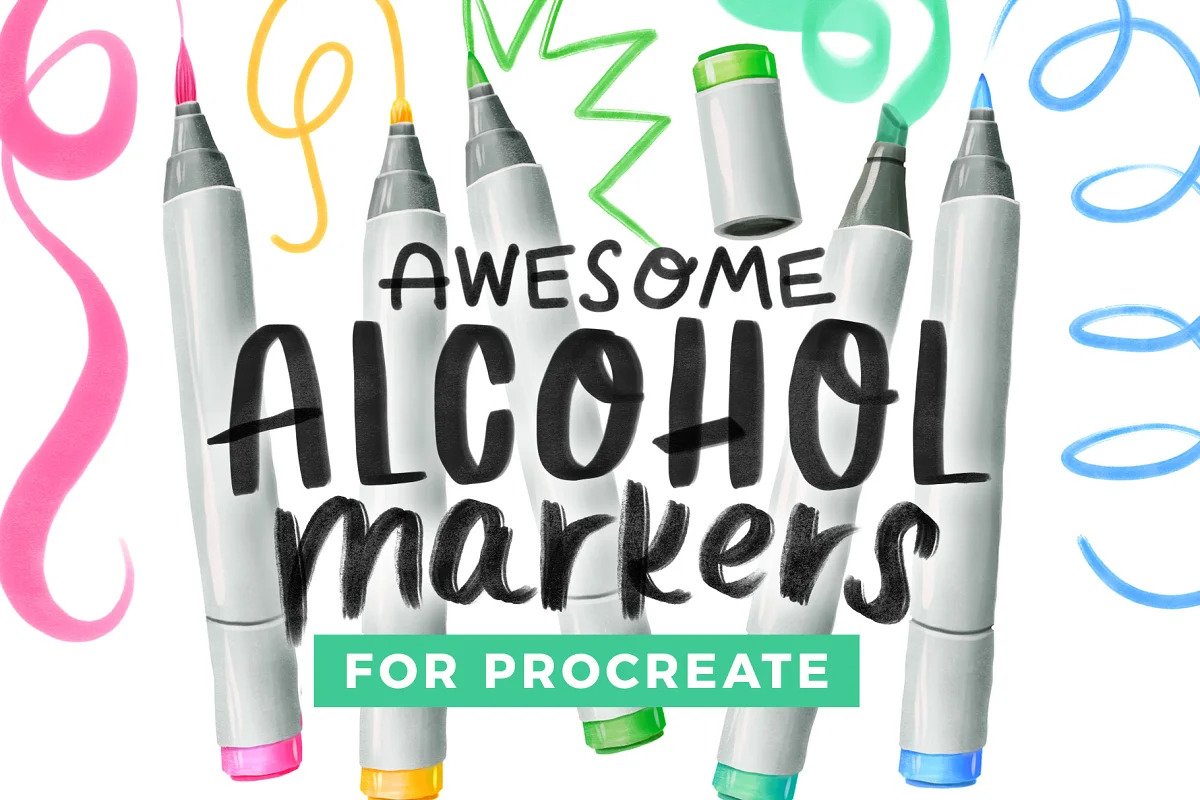 Zipped File Size: 616.36 MB
File Types Included: .BRUSHSET
Software compatibility:  Procreate
Lisa Bardot provides us with great 29 brushes that imitate alcohol markers. The "Awesome Alcohol Markers " comes with a variety of the most popular marker nibs and marker textures. To create these brushes, Lisa sampled textures for these brushes from authentic alcohol-based markers!
Brushes from this pack are divided into 2 sets: Alcohol Markers, and Alcohol Textures&Tools.
Alcohol Markers include 4 unique nib shapes and 3 different intensities, whereas Alcohol Textures&Tools consist of seamless marker textures in both light and dark as well as a custom eraser, blending brush, and ink lightener.
If this pack seems useful to you, I recommend checking out also other Lisa's Bardot brushes on her website: bardotbrush.com (you can find there some free brushes created by Lisa!)
4. Markers Procreate Brush Set by Insalata Illustrata
Zipped File Size: 5.7 MB
File Types Included: .BRUSH, .BRUSHSET
Software compatibility: Procreate
This pack was created by Silvia Bettini (aka Insalata Illustrata), an Italian artist who specializes in creating illustrations in Procreate.
The pack consists of 18 brushes, designed to help you create marker drawings. The thing that distinguishes this set from the other is that along with alcohol and water+based markers you will find here also opaque markers. 
Inside the set, you will find fine liners, felt tips of different thicknesses and shapes, chisel points, round tips, and brush pens.
There's a video tutorial showcasing the capabilities of these brushes, it's presented in the Italian language, but you can see what effects you can achieve with these brushes
Other sites where Silvia is active are also in Italian language, but if that doesn't scare you/ you know the Italian language, you can visit Silvia's website: insalataillustrata.com
5. Procreate Markers Brushes by Goodfela Supply
Zipped File Size: 39.8 MB
File Types Included: .BRUSHSET
Software compatibility: Procreate
Procreate Markers Brushes by Goodfela Supply provides us with 18 marker brushes.
I've compared this pack with other ones, and my conclusion is that if you need a brush set for lettering, where the brushes imitate markers' texture as realistic as possible, you should take a closer look at this one.
Lots of brush packs listed here are great, and promote themselves to be realistic, but if you need something for writing, then I think this is one of the best I've seen.
This pack has textures of dry, worn-out markers, that aren't really a good match for coloring illustrations in the CLAMP style. However, in case of lettering, I see this texture is an advantage because it allows you to create the 3d effect and you can clearly see the flow of the brush stroke …In short, it's not boring.
Goodfela Supply has also lots of other brush packs, which you can find on their website goodfelasupply.com
6. Markers by Tip Top Brushes
File Types Included: .BRUSHSET
Software compatibility: Procreate | REQUIRES Apple Pencil
I'm really intrigued by this brush pack. Spencer aka"Tip Top Brushes" has a bit different approach when it comes to creating brushes.
They focus on providing flexibility and dynamics to a single brush, instead of creating several alternative versions of this brush with mildly changed settings. So for example you can put down a hard-edge chisel tip scribble, and without even lifting the pen blend it out with tilt as pictured above. That's why it requires the Apple Pencil, alternative pens may not work correctly with these brushes.
The pack presented here, "MARKERS 2020" includes 3 dynamic Brushes: Markers 2020 Brush Tip, Markers 2020 Chisel Tip and Paper Texture (use white on top layer).
A few, short pieces of advice from the creators that will help you to make full use of their settings:
use really light and bright colors, and build up darkness with layers of pigment
The colors will mix and combine as you layer them
If you tilt it really low they turn soft and you can blend out a hard stroke
For more pieces of information please visit the brushes page.
7. Procreate Alcohol Art Marker Brushes by Mels Brushes
Zipped File Size: 436.9 MB
Mel is a UK based illustrator and a graphic designer, she runs her own website where she posts her digital products (mainly brushes for Procreate). I've already mentioned on my blog her Animal Fur brushes, so I'm glad I found another brush pack created by her.
The "Procreate Alcohol Art Marker" pack, as you can deduce from its name, is dedicated to Alcohol-based markers. It has 14 unique brushes that will help you to achieve the traditional look + there are 2 blenders: colourless blender and grain blend
I like the fact that there are also a Pencil and Ink lineart brushes included, I often see questions on procreate FB groups posted by artists who look exactly for such brushes.
Ps. Mel has some freebies to download on her website (you can go there by visiting brushes' page). You can also follow her on Instagram @mels.brushes
8. PAINT MARKERS – Procreate Brush Kit by Stefan Kunz
I was a bit worried that this list might not be diverse enough, but fortunately, I was able to find this brush pack created by Stefan Kunz.
Many of the brush packs I saw, try to imitate the Copic / alcohol markers. But this one looks rather like the chalk markers used on a glass!
Stefan is a lettering artist and therefore specializes in creating brushes for lettering (he collaborated with clients such as Asics, Adobe, Apple). This brush pack was created with a similar goal, that is, for creating lettering artworks, but that shouldn't stop you from being able to create illustrations 🙂
You will find here 6 brushes: faded brush, metallic, dried out, fineliner, wet marker and a flat marker. Stefan created a great video guide where he shows how to use these brushes:
I can't recommend highly enough subscribing to his channel, it's a gold mine for anyone who wants to learn about lettering!
You can also follow Stefan's Instagram for more lettering inspirations: @stefankunz
9. Multi-Tonal Markers for Procreate by Bardot Brush
Zipped File Size: 27.7 MB
File Types Included: .BRUSHSET, .PDF
Software compatibility:  Procreate
Lisa Bardot is another artist whose main software for illustrating is Procreate. She runs a website bardotbrush.com
where she publishes her brush sets, tutorials, color palettes, and many fun procreate projects! (+freebies)
She also created a Brush pack entirely dedicated to markers.
The brushes can be divided into 3 categories: Authentic (allows layering strokes and pressure build-up darkness), Prismatic ( contain unique color properties that produce variegated, multi-hued color effects), and flat (no color effects, for achieving even color areas)
I absolutely love the prismatic brushes, they have an interesting texture that can be great in lettering. You can take a look at them in this video tutorial:
Lisa created also lots of other tutorials that are available on her YT channel: @Bardot Brush – if you are a beginner in digital art, and try to learn Procreate, I totally recommend subscribing to her channel for more 🙂
10. Marker Brushes by Seamless Team
Zipped File Size: 399.8 MB
File Types Included: .BRUSHSET
Software compatibility: Procreate
Seamless Team created 26 Marker brushes + Marker paper with premade layers (in two sizes: 3000x2000px and 4000x5000px).
You will find in this pack "smooth", "dry" and "basic" markers that have built-in blending mode + a sketch brush, and a smearing brush. It's a nice package if you need something that will help to color your artwork. With the combination of these brushes + provided marker paper, you can create a digital illustration that is indistinguishable from the traditional marker drawings!
Seamless Team specializes in creating Procreate brushes since 2018, so when I looked them up in search, I found lots of other amazing brush packs: Seamless Team
11. Mimic Markers for Procreate by SketchWerx
Zipped File Size: 73.8 MB
File Types Included: .BRUSH
Software compatibility: Procreate
I'm happy to list on my blog another brush pack created by Tina-Marie (aka Sketchwerx). She specializes in creating brushes that imitate traditional media, like watercolors, oils and pastels.
Fortunately for us, Tina-Marie (as a previous owner of Copic markers) was a bit irritated by her drying out markers and decided to create also a brush pack dedicated specifically to these art tools. (*She owned a whole set of 100 Copic markers, I'm so jealous!)
In short, this pack provides us with 15 brushes, 2 paper textures, and 10 color palettes.  The 10 Copic color palettes included in your purchase are taken from Copic's actual color charts.
Some of the brushes in this set are pressure-sensitive, so you will have to have a little play with them to get a feel for the kind of pressure you need for your desired effect.
Ps. I recommend visiting Tina-Marie's website: sketchwerx.com. You will find there her other brush packs, as well as step-by-step procreate tutorials and freebies
12. Brushes by Chanelle [FREE] V1
Here's a brush set created by Chanelle (under the nickname "Chanellchanelle"). She was kind enough to share it with us for FREE ! It was published on the folio.procreate.art forum.
This pack contains 2 pencil brushes: grain pencil, the heavy grain pencil and 1 brush that imitates the copic marker.
Chanelle has been tweaking these brushes since she first got Procreate, the pack was published many years ago but people still download it today! The comments are very positive, someone complimented it "The way you can see the layering of strokes on the Copic marker – Thank you!".
Anyway, it's free to download, you can test these brushes yourself!
13. Copic Markers by Chanelle [FREE] v2
Here's an updated version of the previous pack. Since the publication of the 1st version, Chanelle has tweaked and made more Copic marker brushes!
There are 3 brushes to download: Copic Marker, Copic Smooth, and Copic Brush. No pencil brushes this time, but you can get them with the previous pack.
Ah, these brushes are also free, so you can download them and see if they meet your needs 🙂
Ps. You can check out Chanelle's artworks on her Instagram: @chanellchanelle
14. Mini Sketchbook Set – Procreate Brushes by Sadie Lew
Zipped File Size: 108.4 MB
File Types Included: BRUSHSET, JPG, PROCREATE
Software compatibility: Procreate
If you are looking for a general pack that has brushes imitating traditional media (including markers), check out the Mini Sketchbook Set!
You will find here 23 custom brushes (8 are marker brushes) with realistic brush textures and 2 paper textures that can be modified to fit your needs.
Some marker brushes come with a multiply variation, which changes the blend mode to "Multiply". This creates more realistic results when you are layering the colors. There's also a "Marker Blender" brush that you can use with the smudge tool to easily blend.
Other brushes included in this set emulate various textures of colored pencils. I have to admit, that these brushes combined together look great – I love the cute illustrations of Pokemon presented on the brushes' page, and the texture makes them look even cuter <3
If you are curious who's the creator of these brushes, Sadie Lewandowski is a Mexican-American artist & graphic designer based in Colorado. In order to see more Sadie's brush pack, visit her website: sadielew.com (you can find there some freebies!)
15. Office Supplies for Procreate by Uproot Brushes
Zipped File Size: 88.8 MB
File Types Included: .BRUSHSET
Software compatibility:  Procreate
Uproot brushes designed brushes that look and feel like familiar everyday office supplies, more precisely: ballpoint pen and markers.
There are 4 brushes in total: ballpoint pen, drying out felt tip, chisel tip marker, round felt tip marker, + office stationery paper texture.
I recommend visiting also their website: uproot.shop – you can find here more sets created by Uproot brushes, including some free packs, and courses.
16. Ultimate Ink for Procreate
File Types Included: BRUSHSET, JPG, PROCREATE
Software compatibility: Procreate
I will be honest here, this isn't a brush pack dedicated strictly to markers, but it does include several marker brushes. It's huge, you will find here over 100 brushes (mostly inspired by ink), but I could not leave it without any mention.
Brushes from this set can be divided into 4 categories: Inkers, Shaders, Strokers, and Fills. You can find the marker imitating brushes in the "Shaders" category – there are 23 brushes in it. The picture attached to this description shows a portion of them.
Moreover, this pack also includes a 22 page guide, a draw-along video tutorial, and a bonus: a texture pack.
*I found a video guide about this set on the creator's youtube channel Tonny Harris. If you are interested in this set, you should check it out!
*Comments are manually moderated. It will take some time before it appears.