FUR brushes for PROCREATE [Free and Premium]
September 5, 2021
Hi! Today I present to you a list of Fur brushes for Procreate – Free and Premium!
Last time I gathered a list of Ink brushes for Procreate, and while looking through the internet I found some amazing brushes that I think will help you to draw fur and hair.
I focused here mostly on animal fur brushes. If you are looking for brushes that will help you paint human hair, please check out this list: HAIR brushes for Procreate
I hope this list will help you to save some time on drawing fur and enjoy the process of painting your illustration even more –  right below you can find the quick list with direct links, and a little further I gathered a detailed list with brushes' descriptions and specifications.
Quick list – Best Ink brushes for PROCREATE:
List of Procreate Fur Brushes
The sets are made specifically for the Procreate app, but a few of them have variations that work in Photoshop and other graphic software – I added direct links to these sets in "software compatibility" details.
Many of these sets were created by artists for themselves and later made available to download and use by other fellow artists.
I always try to link to the artist's portfolio/social media page, so if you have some free time and like a certain brush set – please check out also the artist's websites! You can see some of their brushes in action, and many of these artists create even video tutorials on how to paint in Procreate.
Please remember to give them a "thumb up" or leave a comment under the artist's creations to show them your appreciation for their work, thank you!
Have fun making furry illustrations!
1. 28 Realistic FUR Brushes for Procreate by Eldar Zakirov
Zipped File Size: 42.7 MB
File Types Included: .BRUSHSET .PDF
Software compatibility: Procreate | (alternative versions: Photoshop | Affinity )
*This pack doesn't contain Photoshop or Affinity files, they are available to purchase in separate sets, linked above.
I already admire Eldar Zakirov aka Ldarro for his Ink brushes and amazing illustrations. Luckily, he decided to share his other brush packs with us, including fur brushes, which he developed over a few years and uses to create his professional artworks.
*These brushes are used by the artist to speed up the process and were initially created for Photoshop. Later they were adapted to work in Procreate and Affinity.
The original PHOTOSHOP brushpack:

You can see on this thumbnail artworks created by Eldar Zakirov – with the help of these fur brushes (the photoshop version)
In the pack, you will find 28 brushes + PDF file containing some tips. As this brush pack was created to meet Ldarro's specific needs, you may need to read the tips first in order to be able to achieve your desired effects or tweak the brush settings a little bit.
Ps. If you are curious about Ldarro's artworks, you can take a look at his portfolio!
2. Animal fur and hair by Mels Brushes
File Types Included: .BRUSHSET
Software compatibility: Procreate
Here's a beautiful pack of 32 fur brushes by Mel!
You will find here such brushes as "kitten plume", "dirty dog", "fluffy tail", and even "fleece" and "duckling".
This pack was created mostly with animals in mind but can be used to draw people's hair too.
You can use these brushes to smudge as well as paint, and build up layer by layer. Tip from Mel – Try out layer blends to give your work real depth of colour and richness. Overlay works well.
Mel began putting sets of photoshop brushes which she had produced during various personal design projects on DeviantArt, and later on her website. Beside procreate brushes, she creates also Photoshop, Illustrator brushes, and clipart drawings (png and vector).
* She also published on her website some stuff that you can download for free – so check out her site melsbrushes.co.uk 🙂
3. Fur and Fluff brushes by Bardot [FREE]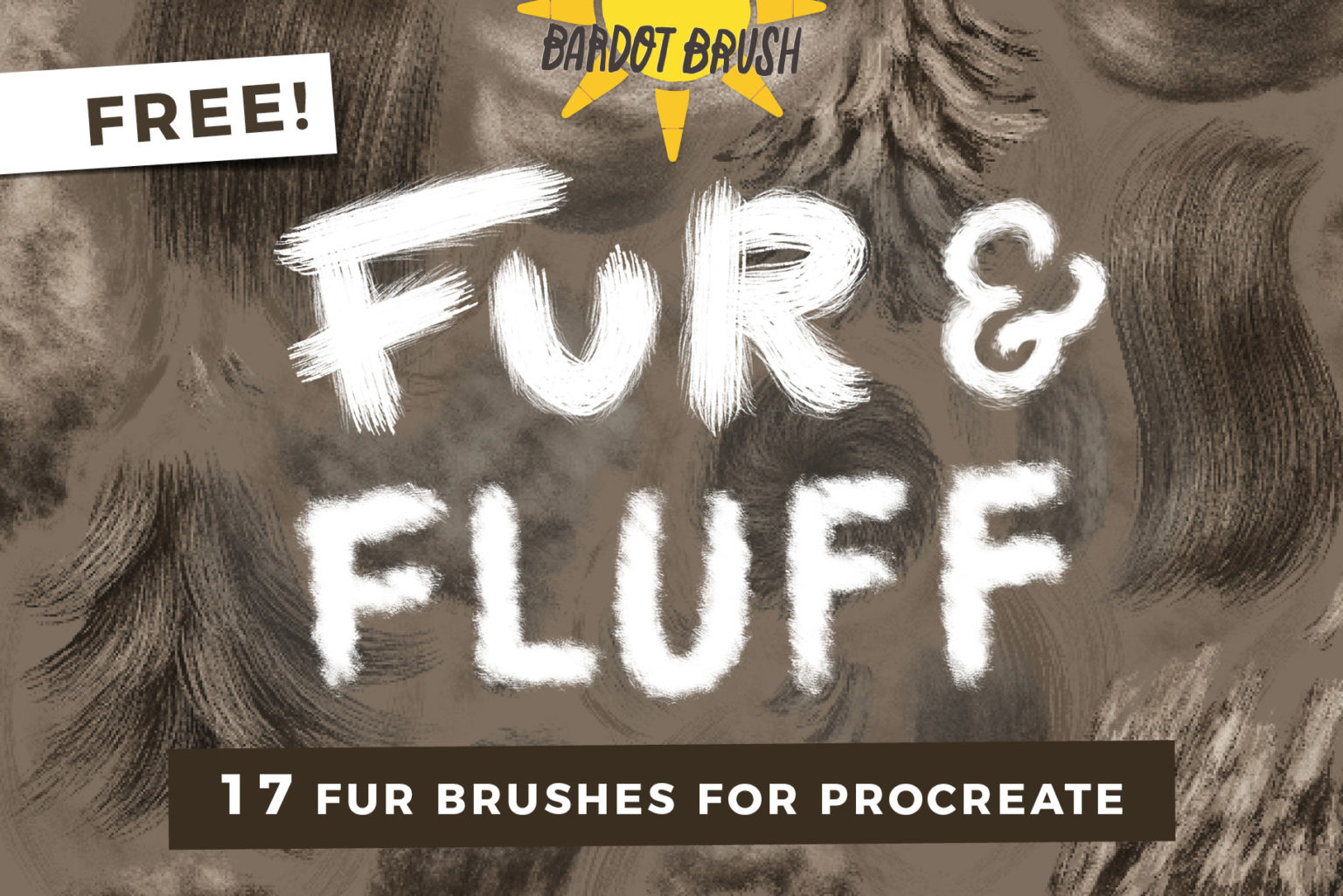 File Types Included: .BRUSHSET
Software compatibility: Procreate 5x or later
Another brush pack created by Lisa Bardot! I mention her brushes also in other lists on this blog – she's an author of various brush packs, tutorials, and freebies (available on her website), including these FREE fur brushes!
This pack includes 17 brushes that you can use to create 5 unique fur textures. If you just started using iPad and Procreate, and are not sure how to use the software, no worries – Lisa has created a Skillshare course where she shows How to Draw Fur in Procreate with Custom and Built-In Brushes.
Here's one of her Procreate tutorials on Youtube, you can take a look at some brushes from this brush pack:
I definitely recommend you to check out the rest of
Lisa's channel
, it's a gold mine of amazing procreate tutorials!
4. Fur brushes for Procreate by Witherlings[FREE]
Zipped File Size: 5.19 MB
File Types Included: .BRUSH .ABR
Software compatibility: Procreate | Photoshop (.abr available on DeviantArt )
Here's a free pack of brushes created by Witherlings. They were originally created for photoshop (they also work in GIMP), but later remade them to work in Procreate.
These brushes were created in 2011, but still, a lot of people download them and leave positive comments (on Deviantart).
Witherlings published also a different, wildlife brush pack(These brushes are free for use in your personal or commercial artwork) where you can also download fur brushes – however, these are not saved in .brushset format. You may need to tweak them to achieve the desired effect.
If you have any questions, I suggest you to look at the comment section on Deviantart, you might find there answers from other artists or some tips on how to use these brushes, or even files remade to work with other graphic software.
5. Procreate fur brushes by Xrosecookie [FREE]
File Types Included: .BRUSH
Software compatibility: Procreate
A brush pack, created by Xrosecookie and published on Deviantart. There are 4 brushes in the pack – not much, but they are free and people love them 🙂
If you have any problems with them, check out the comment section – you may find your answer there (and a link to direct download if you have problems with Deviantart).
Ps. Watch out, some people steal free brushes and post them on etsy to sell – the same happened with this brush pack. You can download this pack for free from Xrosecookie's on Deviantart (you need to register/be logged in to download it).
6. Procreate fur brushes by Art with Flo
You can find Free Sample Brush here: artwithflo.gumroad.com
(please donate if you can to support the artist)
Zipped File Size: 28.3 MB
File Types Included: .BRUSHSET
Software compatibility: Procreate
Painting various realistic fur will be much easier thanks to this set. Art with Flo created a set of diverse fur brushes, you will find here procreate brushes for short fur, long fur, rough fur, fuzzy fur and more. There are 14 brushes in total, many people use them all to draw human hair.
Some people pointed out that they have a problem that their brush doesn't follow their stroke. If that's the case, you may need to change your brush settings – these fur brushes have been designed so that the fur will follow the direction of your brush strokes.
Anyway, if you have any problems or questions about this set, just let Art with Flo know, she is ready to help.
Ps. Art with Flo runs a YouTube channel and a website ( you can download some freebies there) – check them out!
You can download a free fur brush sample on her gumroad.
7. 30 Procreate Fur Brushes by 
File Types Included: .BRUSHSET
Software compatibility: Procreate
Loyalty Art specializes in creating procreate brushes and stamps, including realistic animal fur brushes. There are 30 of them, a part of these brushes are better for painting the base, the rest will help you to quickly add the details.
You can get this pack via Etsy – all purchases are available automatically after your payment ( Etsy app doesn't offer download files, so if you want to download anything to your mobile device, you need to use your browser and log in your etsy account).
Loyalty art also offers "Curls and waves" hair brushes (you will find there dreadlock brushes too) and even a separate "Afro hair" brush pack.
8. FUR TEXTURE Brushes
File Types Included: .BRUSHSET
Software compatibility: Procreate
If you are looking for animal fur texture brushes, this is the pack you should check out!
Ludmila Stepanova created 55 gorgeous fur brushes, that include various types of fur – such as astrakhan fur, fox and mink fur, goat, leopard, tiger and others.
Ludmila also created few other packs that can be a great addition to this set: Animals KIT PROCREATE X5, and LEATHER brushes.
9. Realistic Fur Brush Set by 
File Types Included: .BRUSHSET
Software compatibility: Procreate
Here's a pack of 10 realistic fur brushes for Procreate, made by Alina Mykhalyuk. In comparison to other packs, these brushes are pretty simple, but received a lot of positive reviews.
Additionally, you will also get a JPG instruction on how to use the brushes and draw fur.
10. Fur Brushes For Procreate By Seamless Team

Zipped File Size: 46.2 MB
File Types Included: .BRUSHSET, .PDF
Software compatibility: Procreate
 Seamless Team provides us a set with a big variety of different fur textures and brushes:
• 28 Fur Brushes
• 8 Fur Build Brushes(Every brush has regular, light, dark and smudge version)
It's purpose is to speed up drawing fur, and that is, whatever kind of fur you want to draw – soft, sharp, pointy or curly.
I've already mentioned their other brush sets, and probably will include some of them in future brush lists, since Seamless Team created a LOT of brushes – over 70 sets!
11. Procreate 5 – Faux Fur Brushes
Zipped File Size: 29.1 MB
File Types Included: .BRUSHSET,
Software compatibility: Procreate
Another pack created by Seamless Team, it has 30 different texture fur brushes – Horizontal and vertical. The texture follows the brush's direction.
Also, these brushes are color dynamic which means brush strokes vary in light and dark color, which is very convenient if you want to add some depth and dimension to the fur's texture.
12. Procreate Furry Brushes
Zipped File Size: 854 KB
File Types Included: .BRUSHSET,
Software compatibility: Procreate
Here's a pack of super-realistic fur by  Extremebrushes! It has 8 brushes in total – a small pack, but worth checking out. My favorite one is the "X Jumpy fur", which seems perfect for drawing fur on tails.
Rodd Lopes (creator of Extremebrushes) is an artist himself, and also an author of other brush sets that may be a nice addition to your collection – the Procreate Feather Brushes and the Dragon Scale Brushes.
13. Fur & Hair Brushes for Procreate by luma_llama
File Types Included: .BRUSHSET,
Software compatibility: Procreate 5+
If you are mesmerized by this incredibly adorable bee drawing just like me, then you are probably curious what brushes were used to paint it (I know, a standard question on FB art groups in comment sections 😀 ).
Luckily, Ian Ruhfass(aka luma_llama) made his brushes available to purchase, and now we can get 30 high-quality fur/hair brushes, and we can try to recreate similar illustrations on our own.
In this set you can find such brushes as: "fur soft" "Fur Curly", "Fur Poof", "Fur Fluff", "Fur Fuzzy" "Fur Stiff" and "Fur Flat" – it includes also "single" hair brushes for details.
If you are curious about Ian Ruhfass artworks, check out his Instagram @luma_llama!
14. Fur Brushes by la WestroadThedrewpistv2 [FREE]
Here are 3 Free brushes created by la WestroadThedrewpistv2, a young artist known on DeviantArt under the nickname "TheDrewpistV2" . He mainly uses the Procreate app to paint his artworks. I hope we will see even more brushes to download from TheDrewpistV2 in the future!
---
Do you know an animal fur brush set that isn't listed here, but is worth recommending?
If yes, then please let me know in the comments 🙂  Also, feel free to share your opinion, I'm curious which set looks the most interesting to you. I hope this article helped you to find what you needed!
Check out other brushes for Procreate:
*Comments are manually moderated. It will take some time before it appears.