List of Art Challenges [Updated 2023]
April 23, 2018
Check out this List of Art Challenges and their brief descriptions.
I gathered a list of fun challenges to help you deal with your art block, and will also help you improve your drawing skills. You will also find here various Art challenges to do when you are bored. Check them out!
Update_1: I've decided to clean up the list and include here Monthly Art Challenges as well (they were in a separate article). From now, this list will include every art challenge I stumble upon: non-monthly/not restricted by time, and monthly challenges. It will be easier for me to keep this list updated. You will find here brief descriptions + sample artwork/sample prompt list. On Brushwarriors I also post separate articles solely dedicated to popular art challenges, with official prompt lists and explaining the history behind them. In this list, such Art Challenges will have a link directed to those articles in their descriptions.  – Anna 16:23 Wednesday, December 14, 2022 (GMT+2)
The research
The main criterium for including an art challenge on this list is that it's active/repeatable. If there are no "official prompt lists"/the main website or artist who hosted the challenge isn't active – the alternative prompt lists created by other artists in the following years are recognized as a continuation of this certain art challenge. Most of these art challenges take place on social media websites, private Facebook Art Groups or Instagram, and sometimes it can be difficult to find pieces of information about them. My goal is to document these art challenges, discover when they started, and who created them.
Art Challenges Quick List:
Non-monthly Art Challenges  |  Monthly Art Challenges  • January  • February  • March  • April  • May  • MerMay  • June  • July  • August  • September  • October  • November  • December  |  Monthly Art Challenges Calendar  |  Related websites  


Non-monthly art challenges
Briefly, ArtVsArtist is a collage compound from 8 artworks and one photo – the artist's photo, which is usually placed in the middle, surrounded by 8 squares with artist's works. This project is quite popular on social media – Facebook, Tumblr, Twitter, Instagram, and DeviantArt. The purpose of it is to reveal artist's face – since many artists use social media only to post their artworks, it's a great way to introduce yourself to your followers. The history of this challenge, examples and a #ArtVsArtist template you can find here: link
---
2. Draw this again
This is my favorite challenge! And a perfect way to check how much you have improved. In this challenge, you pick one of your old artworks and draw it again – of course, implementing everything you have learned so far. It's hard to see a progress comparing few artworks drew in a close amount of time. After a year (or even few months) of drawing, you will be able to see your mistakes and know how to fix them. Redrawing your artwork will show you how much you have improved, and keep you motivated (well, what's a bigger motivator than seeing a huge progress?
---
3. Left hand
The "left hand" challengers have a seemingly easy task to fulfill. You have to use your non-dominant hand to create an artwork. Usually, they draw the artwork with their dominant hand first, and then try to copy it with their other hand – this way is easy to compare how well you can control your non-dominant hand. Remember, that drawing is not only about how well you can control your hand, but mostly about your imagination and the knowledge of proportions, light, etc.  By the way, have you tried this challenge in the past, and your drawing was unexpectedly good? Congratulations, you might be ambidextrous! Only about one percent of people are naturally ambidextrous.
---
#stylechallenge was started by a 17-year-old Instagrammer called beautifulness87. The idea is simple: draw the same character multiple times in the styles of as many popular cartoons as possible. The results are pretty awesome. It's also a fun exercise that will help you to deal with an art block! On the internet, you can find many sheets which you can use – or create your own sheet! Here you can read more about this challenge and download a Different Art Style challenge template (PSD file)
---
20 Art styles challenge is an art challenge where your task is to draw the same character/or yourself in 20 different art styles. Very similar to the challenge described above, but here we have an additional rule – the number of styles. It's a popular art challenge posted on Instagram and other social media with hashtags: #20stylechallenge #20styles and hashtags of the art styles they used in the challenge. Here you can download the 20 Art Styles Challenge Template and see what styles are used: What is 20 Art Styles Challenge?
---
I love drawing heads, it's my favorite thing part to draw! Trying to show the model's character and emotions on a paper is a challenge itself… but some people decided to go hardcore, and here's the "Draw 100 Heads Challenge"! So, the purpose of 100 Heads challenge is to draw 100 heads / portraits. The time limit is 10 days. It's pretty limited, so it's good to stick to drawing 10 heads per 1 day. The challenge was started by Ahmed Aldoori, you can watch his taking the challenge in the video below: https://www.youtube.com/embed/0A_kQsxeeTE Before taking the challlenge, Ahmed Aldorii created a pinterest board where he gathered about 100 photos. You can find it here. The challenge is a good way to practice drawing faces – a similar homework get art students, but not only they have to draw a certain amount of faces, but also a certain number of hands (It wasn't as easy as I thought it would be, the hand are perhaps the most difficult body part to draw).
---
Face your Art is an art challenge, where the artist makes a collage of his artworks. The collage consists of 9 different art pieces made by the challenger – usually, that are faces of the drawn characters, cropped into squares. The Artist draws conclusions from his paintings – mostly what they have in common and what drawing mistakes the artist makes and writes them in the artwork's description. The Face Your art challenge was created by an Artist named Chao. Here you can find more of her artworks: ChaoIllustrations.co.uk You can learn more about this challenge here: Face Your Art Challenge
---
Character Design Challenge is an art challenge run on a Facebook Group, named obviously "Character Design Challenge!". Every month, a new theme is announced, and artists who participate in the challenge have about 30 days to design a character based on the theme. The best designs win the challenge, and a new theme is announced on the 7th day of each month.  In this challenge you can actually win a prize! Important rules: – This challenge is exclusively for 2d artworks (traditional and digital). – Only 1 design per theme – If you have an old design that matches the current theme – it can't participate in the contest. You can publish it, but it won't be considered while picking up winners. You can find all rules here: Challenge Rules The Character Design Challenge is organized by Character Design References™ (CDR) an independent webzine dedicated to sequential, illustrative and concept art from animation, games and comics. You can visit their main website: www.characterdesignreferences.com
---
ToonMe is an art challenge, where artists create a stylized autoportrait – usually in cartoon style. It's based on an actual photo – the artwork is divided into half. One half is the actual photo, the other half is the illustration. It's a great way to introduce yourself to your followers, and show them your real face. Well, at least a part of it 🙂 The ToonMe challenge was created by illustrator René Córdova, a Marvel illustrator based in Guadalajara, Mexico. Córdova created the challenge on January 7th by sharing a selfie that was half photograph and half illustration. Many artists followed him, and created many amazing ToonMe artworks, you can check them read more about this challenge here: What is #ToonMe art challenge?
---
Six Fanarts is an Art Challenge where artists draw 6 characters suggested by other people. The artists usually post on their social. medias' (ex. Twitter, Facebook, Insta) question, and then pick out from post's comments the following characters to draw. The artists use a template for this challenge where they paste into squares their previously drawn fanarts, or draw directly on the template. There are no rules to what art materials you have to use, and no time limit. More info: Six Fanarts Art Challenge Template
---
Draw this in your style (short: DTIYS) is an art challenge, where artists draw an already existing artwork, but in their own style. There are no restrictions regarding tools, you can use both: digital and traditional media, and there's also no time limit. Also, if you have your own ideas, want to draw the character in a different pose, change colors, you are free to do so. More info: Draw this in your style [ART CHALLENGE]
---
Sailor Moon Redraw Challenge is an art challenge, where artists from all around the world redraw Sailor Moon – Usagi, in their own art style. This challenge goes beyond the borders – you don't actually have to draw to participate in this challenge. You can use 3d software and sculpt a 3d model, create a sculpture from wood, or even do a cosplay More Info: What is Sailor Moon Redraw Challenge?
---
More info: The Witcher Art Challenge WitcherOC is a short for "Witcher Original Character". "Original Character" means that the author of the illustration/story used his own, original ideas to create a new character, basing on an existing world/characters (created by a different, main author). Usually, the "Original Character" is placed in the same world as the "Main Character", that inspired the artist – but OC does not exist in the real story, and is not recognized by the Main author. I looked over the internet and found some posts saying that women can't be Witchers. I can't find them right now, but it might be something that triggered people to create a female witcher OC use #Witcherlass hashtag in every Witcher fanart.
---
• January Art Challenges
This is a challenge created by Dibujante Nocturno, Rafater and Joshua Cairós. A few years ago they decided to draw a creature per day in January in order to start the year with good artistic vibes. Great challenge if you want to improve your creature designs! The prompt lists are published on its official social pages, such as @creatuanary on Instagram. The prompt list consists of 31 (for each day of January) words/creature names, that serve as inspiration for your drawing. hashtags: #creatuanary More info: Creatuanary – Perfect way to start a New Year!
• February Art Challenges
Fairyary is a challenge that was initiated to invite artists to draw more fairies and spreading fairies love during February. The goal is to draw one fairy each day of February. There's no restrictions in regards t what tools you can use: "Write if you prefer writing to drawing, whatever!"
---
Febirdary
A cute art challenge, dedicated to drawing birds. The rules are really simple: just draw one bird each day the month, post it to social media, and tag it with hashtag: #Febirdary. There are no restrictions on what tools you have to use, it can be digital or traditional media. It's an alternative challenge to "Decembird"(original). Febirdary was created as "late Decembird"
---
Figuary is a 28 day Figure Drawing Challenge that takes place during February, and it's a project created by lovelifedrawing, with help of Croquis Cafe.
---
#28DrawingsLater
28 Drawings Later is a challenge to do something creative every day in the month of February. Facebook group: 28DrawingsLater 
• March Art Challenges
Magical March is an art challenge where artists draw a magical girl (or something related to this subject) every day for the month of March! Each year people post a list of their prompt list, and based on it, they draw (usually) a character stylized as a magical girl (Sailor Moon and Card Captor Sakura are great examples of what you should aim for) – the drawing has to be related to a prompt word of the current day.
---
The goal is to draw a new robot illustration each day for 31 days. You don't have to do a drawing every day. Drawings can be digital or traditional, but it must be drawn by you and it has to be a robot or depict a scene featuring a robot.
---
Monster March
A perfect challenge for monster lovers – it is dedicated to drawing monsters. Doesn't really matter what kind of monsters. It's a great opportunity for artists looking to challenge themselves, and come up with new creature concepts.
• April Art Challenges
April showers
April showers daily prompts are related to rain and storms, for example, "Rain boots". After all, April showers brings May Flowers. There are many prompt lists created by various artists which you can use.
---
Plein Airpril
The #PleinAirpril Challenge is an Instagram campaign that challenges artists and painting enthusiasts to paint and share one plein-air painting a day during the month of April. To learn more, visit warriorpainters.com hashtag: #PleinAirpril
• May Art Challenges
MerMay in another fun challenge that starts in May and lasts till the end of this month. The goal is to draw a Mermaid every single day!  There are no restriction oh what tools you should use. On the official Mermay.com site you can find a list of prompts for each day. It's not mandatory to stick to the list, you can use them just as inspiration. To learn more, visit an article dedicated to this challenge: What is MerMay Challenge?
---
Munchy May
Munchy May is an annual project based in the month of May. Every day when artists across the globe submit their artworks to social media, they are asked to reflect on their meal, artwork, and outer life, and explain in the artwork's description for what grateful for they are at this moment. Artists draw mostly food they have eaten at that day. https://www.instagram.com/munchymay/?hl=en https://www.instagram.com/p/COxjCvJpFrV/?hl=en
• June Art Challenges
As the name indicates, it's a challenge dedicated to drawing unicorns, every day for the month of June. There are no restriction to what media you have to use, you can also create your own prompt list or use other artist's prompt list, as long as your drawings will be related to unicorns.
---
is a 30-days art challenge that takes place in June. The goal is to draw a new creature or your version of a classic creature,  every day of the month, following a prompt list. *There's no official prompt list. Many artists create their own lists and publish on social media, allowing others to use it. So, you can create your own prompt list or use an existing one. The most popular Kaijune prompt lists are created by @flancortes
---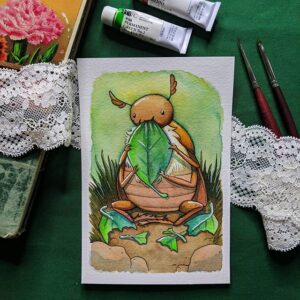 During the month of June, Junebug challenge encourages you to doodle, draw, paint, photograph, or even sculpt some artworks based on insects, and post to social media.
---
A similar art challenge to Fairyary (from February). Draw a fairy every day – you don't have to stick to the daily routine. The goal is to draw faeries, pixies, brownies, hobgoblins, etc. during the month of June.
• July Art Challenges
It's belated KaiJune – for artists who didn't have time to participate in this challenge in the previous month, June.
---
Julycanthropy
This is a drawing challenge running from July 1st to July 31st. This challenge focuses on drawing wolves and werewolves (or other canine creatures).
• August Art Challenges
August in the art community is the month of dragons, dubbed #Smaugust, where every day of the month you attempt to draw a dragon in any way, shape, size, medium, or fantastical method you desire.
---
Doggust a daily challenge for the month of august to draw a dog every day, according to the prompt list. Use any medium you want and feel free to join in any time!
• September Art Challenges
Sketchtember
Create one digital or traditional sketch every day in September. The main goal is to create sketches, not finished illustrations.
---
It's a sword-themed art challenge that takes place in September. Its goal is to draw a sword – inspired by a daily prompt list, for each day of the month. *You can interpret it as a fantasy art challenge instead of a sword-specific challenge. https://sinlaire.artstation.com/albums/3019352
• October Art Challenges
Many artists refuse to participate in Inktober. Therefore, there's a huge list of alternatives. Read the article to find more art challenges here: LIST OF INKTOBER ALTERNATIVES – It's a list dedicated entirely to October's Art Challenges. Here I'm just listing the most popular ones.
---
Probably many of you scrolling through Facebook drawing groups or your favorite artist's Instagram can see drawings with unusual topics marked with a hashtag #inktober. "Inktober" is a combination of the word "INK" and the end of the month October. Every October, artists all over the world take on the Inktober drawing challenge by doing one ink drawing a day the entire month. The official website www.inktober.com, created by Jake Parker, every year on October gives a list of topics that should be accomplished day after day. Inktober is about growing and improving and forming positive habits, so the more you're consistent the better. Learn more about Inktober here: What Is Inktober?  
---
Drawlloween is the Halloween-based art challenge started by Brian Soria in 2012. Inspired by Jonathan Coulton's "Thing A Week", it began as a series of warm up prompts for his Austin-based "Society of Malice" art group. The challenge found it's way to online art forums, took off and is now enjoyed around the world!
---
Drawtober was created in the spirit of Halloween and hosted by Vonnart, Gawki, and Diandrapopart. https://www.artstation.com/artwork/OlY8w
---
Goretobers gives artists a different and new drawing challenge every day that revolves around gore.
---
Catober
Catober is an art challenge dedicated to cats and other feline animals.
---
Foxtober
A challenge created by Martith, where your drawing subject are foxes! Your goal is to draw one fox per day, inspired by the prompt list.
---
OC October/ OC-Tober
*descriprion will be added later https://www.instagram.com/p/CjOKTMvPfF0/
• November Art Challenges
Its goal is to draw one drawing each day, for all days of the month of November, in a given hue. Each day is linked with a certain hue – you can use all colors you want in your drawing as long as the hue of the day stays the main visible color of the image.
---
Slowvember
Slowvember is about quality and getting something you really like. During this challenge, work on one image and make it as good as you can. Finish a 1 portfolio-level drawing in one month. https://www.instagram.com/p/CDdQb9CDP73/
---
Dinovember
Dinovember is a challenge where everyone draws one dinosaur per day to learn about the prehistoric past! It doesn't matter your skill level, it's just for fun!
• December Art Challenges
Every December, artists from all around the world, create a drawing for each day of December. The prompts are mostly Christmas related.
---
Talecember is a daily challenge that focuses on worldbuilding. Any medium and genre are allowed, you can draw, write stories, descriptions, create maps and games inspired by a given prompt.
---
Decembird
Decembird (similar to Febirdary) invites you to have fun making birdy art and to grow as an artist.
---
DnDecember
Dedicated to fans of Dungeons & Dragons (dnd). Draw every day one character with a different race and class. Jack Burke created a prompt list with a race assigned for each day, and separate lists for class, and traits of your character – you choose them by rolling a dice!
---
Digicember
In this challenge, your goal is to try to create 1 digital art daily. If you are a traditional artist, and till this moment all your artworks were painted/sketched with traditional tools (pencils, oil paints etc.) without any interference of digital software – it's a great way to learn something new. For artists who are already accustomed to creating digitally – it's an opportunity to learn new software. *Alternative version of Digicember: some artist create their own Digimon character or fanarts during this month.
---
Treecember
A challenge dedicated to painting trees.
*Monthly Art Challenges Calendar
Hey, here's a list of monthly challenges (divided by months), and excel – file calendar with the list of monthly art challenges that you can copy and modify it for your own personal use. *On the right side I also included non-monthly challenges. Have fun!
Here are related websites, where you will find other art challenges.
---
Why you should participate in the art challenges?
Because it's fun, improves your skills, and teaches you to stick to every professional illustrator's routine – the daily drawing habit. Learning new things and practicing them takes time, so why not to make this more enjoyable? By the way, remember to add a proper hashtag when posting your artworks for art challenges on social media – you might gather a few new followers 😉
That's was the list of most popular art challenges. If you know any other interesting art challenges, let me know – I will check them out and add to the list!  
*Comments are manually moderated. It will take some time before it appears.